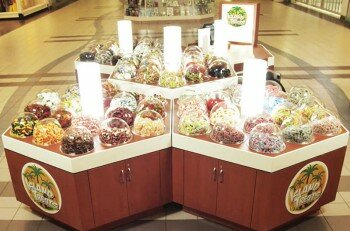 Old-timey favorites, kid-friendly candies, upscale sweets and a corporate culture of giving back define this sweet franchise.
Candy—Maxim Sirotovsky will tell you—is an essential part of American culture and it has been for a very long time. The staple forms the basis for his franchise business, Island of Treats.
Sweet treats are made of these
At its most basic, Island of Treats—founded in 2013—is a candy kiosk; a patent-pending bulk confectionery unit that functions as a stand-alone station in shopping centers and other high-traffic areas. How does this kiosk differ from other candy-dispensing machines at the mall? For one thing, the assortment of treats is simply mind-boggling, says company CEO and founder Sirotovsky. Butter-toffee cashews, pecans and almonds are all very popular as are traditional candies such as Swedish Fish and gummy bears. Sirotovsky says the units appeal to customers of all ages: the older folks like dark chocolate or chocolate-covered cashews while
the younger kids love gummies and anything sour. The units also add a dose of nostalgia by including retro candies
like jawbreakers.
With around 72 candy varieties to choose from, there is plenty for the discriminating candy connoisseur. The number of different candies at each unit depends on the size of the kiosk. Some flavors change according to season. For example, pumpkin slices and candy corn are popular in the fall, while candy hearts are Valentine's Day must-haves. Customers mix and match selections and pay by the pound. The cost depends on location and can vary from $2.99 to $3.29 per quarter pound.
The kiosk design also sets the units apart in the shopping center, says Sirotovsky. The 360-degree uniform view makes the unit equally appealing—and accessible—no matter which way you approach it. "It really stands out in the mall," Sirotovsky adds. Even better, the "plug-'n-play" model means the units are easily assembled and ready to function in less than eight hours. "It's a genuine turnkey operation," Sirotovsky points out. The units even have wheels in case they need to be moved to other areas of the shopping center.
Franchise formalities
The capital required is usually around $60,000 with an investment level between $149,729 and $209,980. There is a royalty fee of 5 percent and a 1 percent brand fund fee (marketing). The initial investment includes an operations manual, kiosk, signage, a POS and, of course, candy. Steven Strauser, director of training and business development, says that franchisees that sign up in 2015 will receive $10,000 in initial inventory free of charge. New franchisees will also receive free freight delivery, assembly and complete setup of their units (a $5,000 value). Also, eligible U.S. military veterans—those who served on duty for 20 years or more—receive a complete waiver of the 10-year initial franchise fee. Those veterans who served between one and nine years qualify for a 25 percent discount and those who served between 10 and 19 years receive a 50 percent discount.
Island of Treats kiosks can be found in malls around the country, including Westfield Garden State Plaza in New Jersey, and, as of April 2015, the King of Prussia Mall in Pennsylvania.
Sweet sprinkles
Strauser says that the company, which has 23 employees and nine corporate-owned locations, has a philosophy of giving back. For example, Island of Treats plants five trees for every active franchise location every day. Strauser adds that franchisee support teams include development and leasing experts, operational support professionals, training managers and marketing managers.
Another advantage is that Island of Treats allows franchisees to buy candy from wholesalers who are approved by the company. They are not locked into
buying arrangements.
"We are a staple; we are an 'and' product," Sirotovsky says. "You come to the mall and buy candy, you buy clothes and candy, you buy shoes and candy. It's that add-on feature that's particularly attractive," he says. "We like to say that we are delivering happiness—one scoop at a time."